My Name is iPod
September 24, 2006
"Before my wife and I traveled to Japan for the summer, we glued ourselves to our iPods and to the free language-training podcast, JapanesePod101, available on iTunes. On the entertaining podcast, Queens, New York-native Peter Galante and his Japanese colleagues wove instructive lessons around functional tips for navigating Japanese society--like what to do when you miss the last subway at night."

Five Podcasts Worth Downloading
Brian Heater, October 15, 2007
"... this Tokyo-produced podcast offers a painless—and free—way to bone up on the language and culture of the Land of the Rising Sun, offering the sort of relevant real-world preparation that you won't get in a classroom or on a CD-ROM."

Expensive Language Lessons? Doesn't Translate
Matt Gross, April 6, 2010
"Of particular note is SurvivalPhrases, which offers 3- to 5-minute episodes that cover basics like "Where is the bathroom?" in 19 languages, including Vietnamese, Russian, Greek and Brazilian Portuguese."

Brushing Up on Your Japanese on a Small Screen
Nancy Matsumoto, March 14, 2012
"The content is breezy and fun, though the brief, au courant English introductions from a young American woman in Paris can be silly. We liked the function that let us hear just one line at a time, allowing for pauses for speaking practice and to go over vocabulary lists and sample sentences."

To Learn the Japanese Language, Get Pod-agogical
W. David Marx, February 28, 2006
"Beginners may find it difficult to enter directly into this Japanese material, but the popular podcast www.JapanesePod101.com attempts to teach the language within a bilingual environment. Creator Peter Galante hosts his podcast in English, explaining most of the lesson's key concepts, while authentic Japanese natives sound out the words with proper pronunciation."

iPhone Apps for Thailand: A Mixed Bag
Graham K. Rodgers, June 6, 2009
"Word Power Lite is designed for someone trying to learn or improve their Thai skills. A daily word is downloaded automatically. The device displays Thai characters, phonetic characters and a translation. When the Listen button is pressed, a female voice reads out the word (or phrase). ... Each daily word can be added to a word bank. This also allows use of flash-cards to assist learning."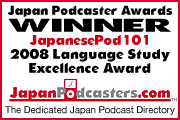 Japan Podcasters 2008 Language Study Excellence Award
"Those planning vacations to Japan and who only want to learn a few phrases, beginners just getting started on the road to fluency, as well as Japanese language students already at an intermediate level, all will find material of interest here, and definitely need to add JapanesePod101 to their podcast download lists as soon as possible."

iTunes Store: Best of 2007 Podcasts
JapanesePod101.com was named one of iTunes Best Audio Podcast of 2007 under the Classic: Audio category. The list was compiled by the Apple iTunes' staff and highlights a sampling of the top new and classic podcasts from independent producers and corporate entities in both audio and video formats.

Podcast411 Interview
Interview with co-founders Eran Dekel and Peter Galante. Podcast411 is the leading Interview show focused on Podcasting.

PodFinder UK
"If you've always wanted to learn Japanese but never known the right place to look, then look no further than JapanesePod101.com. ... it's a really easy site to navigate around and the podcasts are really, really good."